If you are building a new facility, you have both the best and worst issues to deal with. On one hand, the possibilities are endless, and you can have complete control over everything. On the down side, building a new facility can be a nightmare. Established buildings have the distinct advantage of having infrastructure already in place, but with new construction, the design of every aspect is under your control. So when your business is ready for a larger building, which should you choose? New construction or an existing building? The answer to that, is ultimately up to you, but each has their distinct advantages and disadvantages. At Mark IV Communications we are equipped to set up your communications, cabling, and security infrastructure regardless of how extensive the project. We specialize in all aspects of cabling, trenching, security system installation and even designing your server room. Starting right in your new building can make the expansion that much easier down the road. So let's look at the differences between purchasing a building as opposed to building from the ground up.
Purchasing or Renting An Existing Building
Lets face it, you are probably sick and tired of renting, and anything sounds better than renting for the next ten years. Renting has its own set of pros and cons and the most important consideration is if your building fits your business. It is much harder to construct or purchase a building in prime locations, which leaves renting a viable alternative. When you rent a building, you may be responsible for utilities and general upkeep, but the physical plant is generally the responsibility of the owner. Renting sounds amazing until the day that your business outgrows the space it is in and your hands are tied when it comes to expansion. Of course renting may be the only option and that is completely fine, Mark IV Communications is here to help with the cabling and server room design. In a rented building, the ability to remove all of your communications cabling and servers is something to consider if you are anticipating future growth. We can even design portable server setups that are easily moved.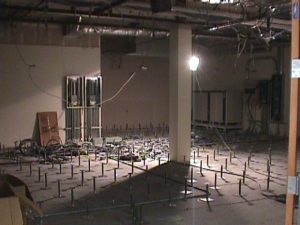 The next best thing to building and designing your own building is purchasing an existing one. The opportunity to build your business around an established location like a downtown area or new arts district, is extremely appealing to many. Purchasing a building in an established area can come with its own challenges. These areas generally contain older buildings that are not necessarily friendly to the cabling needs and server room design that are so common in business today. A historic old building always sounds amazing when considering the possibilities, but businesses tend to get in over their heads with maintenance and upkeep. It is best to not get emotionally invested in a building that will house your business and when the right one comes along, the process will take care of itself. Mark IV Communications can retrofit any building into the ideal place to conduct business. We have the necessary experience to design and implement a nonintrusive communications and security infrastructure.    
New Construction
New construction to a business owner may seem like a dream come true, like all of the hard work has finally paid off and your new building is a monument to your success. Sure, that can be true,but the most important thing about building a new facility is surrounding yourself with the right people. Think of your contractor as the most important person in your life when you are building a new facility. A good contractor can keep the whole situation from flying off the rails at any point. From there, assuming you trust your contractor, you can pretty much sit back and watch your dream become reality. Don't forget the most important part, the data cabling, security system and even paging/white noise systems. Mark IV Communications can design and install your complete network and cabling system. From the outdoor trenching, server room design and the security CCTV system, we are your Orange County experts. Let Mark IV Communications retrofit your old building, new rental or your new construction. Give us a call today and let us make your building dreams come true.